Last week I had the honour of co-compering our 3rd Learning and Teaching Exchange. We've been running this from LEaD over the past year (online obviously!) where staff come together to share their learning and teaching practice. Its been a really helpful forum in terms of discovering ideas, learning about what City colleagues are doing and enabling staff to support each other with common problems and challenges. I take no credit for this, it is all organised by my fabulous team which takes enormous amounts of work and I know that staff find it really valuable.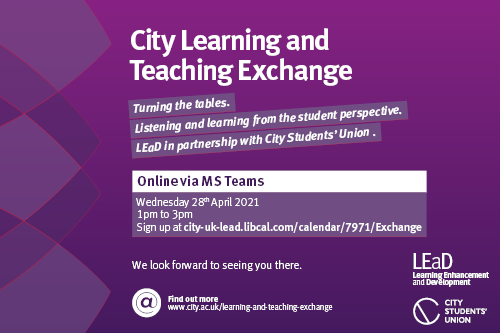 For the 3rd Exchange, my team worked with the Students' Union to "turn the tables" and have the students run the exchange. I co-compered it with our SU Vice President Education, Ruqaiyah. We had a series of presentations from both the SU Officers and students who had been studying online and it was fantastic to hear the students' voice. The presentations highlighted issues that we may have been aware of us, such as how challenging students found the transition to online learning and how repeated lockdowns had impacted on their wellbeing. It was incredibly humbling and moving to hear the candid accounts from our students about the pressures they had faced over the past year. What was also striking was how amazingly positive the students all were. Each student speaker highlighted particularly lecturers and techniques that they had found really beneficial and it was heartening to hear them celebrate the work of particular lecturers. The students were great at reflecting on what worked and providing suggestions to staff on what would be helpful as we go into the next academic year. One of the students summed it up when she said (and I paraphrase) "online learning gets a bad press, but it the main its been great!"
From a purely educational development perspective, it was reassuring to hear students recommending that academics adopt practices in terms of online learning design that we have been promoting to our staff, particularly around signposting and scaffolding.
There were some key messages that I took away from the event:
Build in "human" interaction. Our students mentioned how important and helpful it was in terms of their engagement when the lecturers added some informal, more "human" elements to the online content. Whether it was informal discussions about holidays or pets, this helped the students bond with their lecturers and see them more than just 2D images on the screen.
Signpost your materials. With the amount of content available and everything being online, our students said they really valued clear signposting and organisation of materials.
Everything in one place. Related to the above, our students preferred materials to be located in one place, even if different systems were used for interaction and so on, making sure that our VLE was the sole source of information was really helpful in terms of ensuring that students could find things.
Continual engagement is hard. Our students all discussed the toil on their wellbeing with learning remotely constantly and charted peaks and dips in their engagement. This is where connecting with others informally really helped in terms of keeping them on track and knowing where they could ask for help.
Podcasts are growing. Students have been telling us that they have really enjoyed podcasts or being able to listen to materials, as it enables them to get away from the screen. This has helped with their wellbeing too as they can get outside or engage with material in a more flexible way.
Students need community. How to encourage community online has been a key topic of discussion over the past few months and this really came across during the afternoon. A sense of community was so important in supporting students wellbeing and engagement. This is something that I think we can all empathise with on a personal level, but even more significant for our students, some of whom may not have been able to meet students in person on their course at all. Students asked staff to encourage them to meet up around the formal learning activities and support each other.
Digital skills are so important. Our students highlighted the importance of lecturers knowing what they are doing with the technology and being confident with it. This is important for our students too, but they really wanted those teaching them to be proficient with the technology.
Feedback on assessment is even more important. Given that access to teaching staff may be reduced (although not always), students highlighted that full feedback on assessment was even more important. Students were less keen on exams for this reason as well as challenges around timing.
Guided online materials needed guidance. Students asked that staff were realistic in the use of guided materials and gave clear information around expectations in terms of time engagement. Study plans and other materials that support this were encouraged.
Design assessments carefully. Students wanted coursework that was well designed and rewarded their effort. This supported engagement and motivation by helping students see what they had learnt and achieved, which again relates back to the point about feedback.
The whole exchange was rich and thought provoking. It was great to hear from our students and certainly something that we will do again. I would like to thank all the students who participated, the SU and the LEaD staff who organised such an engaging event. Hearing the experiences of our students brought core messages home very powerfully.